First came A Heavenly Christmas and now we have the riveting sequel, Someone to Love. This book is light on suspense and heavy on romance, and a perfect listen any time of the year! Allison Cornwall was forced to leave her hometown in Connecticut and live life on the run from an ex-boyfriend turned stalker. She changed her name and hunkered down in Heaven, PA. The small, idyllic town was a safe haven where no one could find her. And yet, after a year and a half of peace, he did. Police Chief Ian Brown is determined to keep crime out of Heaven. When Ally fears for her life, he's there to protect. Recently divorced, he's not looking for love, but this innocent young woman touches his heart. Can they put their pasts behind them and open themselves to the miracle of Christmas, learning once again to trust and to love?

Someone to Love
,
written by Patrice Wilton, is book 2 of

A Heavenly Christmas

series. It's a holiday tale with spicy romance and a stalker mystery. The main characters from the first book of the series are secondary characters in this story. If you enjoy Hallmark movies during the Christmas season (like I do) then you'll enjoy this book.
Allison (Ally) Cornwall has been on the run, hiding from a man in her past, and settles, for the time being, anyway, in Heaven Pennsylvania. When a creepy occurrence happens on Ally's doorstep, Chief of Police, Ian Brown, becomes entangled in the mystery surrounding Ally—and his growing feelings toward her.
*This story is spicy, not your usual sweet-n-clean Holiday tale.
Audio Narration:
As I mentioned in my review for the first book in this series,

Rita Page

has a smooth and gentle tone that is kind and inviting, but I feel she sometimes overstates her tones. Ally often sounds like a pouting child, rather than an adult due to the voice inflection. Also, the men's voices sometimes sound seductive when it isn't a romantic scene. Ms. Page's sugary narration reminds me of a mixture between Caroline Ingalls (from

Little House on the Prairie) and Mary Alice Young (Narrator of Desperate Housewives.) I feel the narration is better in this sequel than in the first book.
Audio Production Quality:
The production quality of this audio book is clear, with no distracting background music, static, or skips.
Overall opinion:
Someone to Love
is an absorbing story with lots of suspense and romantic spice. Pros: the romance is not typical—between an older police chief and a younger woman, which is fun. Cons: the voice narration is overplayed, and I feel the story could've ended much earlier. When the mystery was solved, maybe the rest of the story could have been wrapped up as well.
** The cover should be edited. "Can the passion last once the danger has past?"

The word

past

should be

passed.
Series: A Heavenly Christmas Series Book 2
Publisher: Dreamscape Press
Pages (printed length): 186
First Line: Allison Cornwall, known locally as Ally Holmes, was dashing off to work at Nick's Bar and Bistro when she literally stumbled over the dead skunk on her front porch.
I received this audiobook as part of my participation in a blog tour with Audiobookworm Promotions. The tour is being sponsored by Patrice Wilton. The gifting of this audiobook did not affect my opinion of it.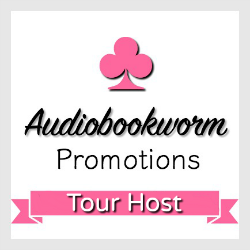 Someone to Love
, Book 2
Nov. 12th: